Sri Krishna TV Series Part 2 (15 DVD Set)
The Epic TV serial 'Shri Krishna' sings the glories of Lord Krishna and is based on Srimad Bhagavatam Mahapurana.
The life of Sri Krishna is not a simple subject since His life-span is spread across the endless ocean of immortality and eternity.
Sri Krishna bhakti (worship) is embedded in the soul of India since millions of years and His image has been nourished by innumerable generations of the common man.
Krishna DVD - Episodes 54 to 63: Shri Krishna becomes Radha. Radha becomes Shri Krishna. Radha tests gopis' love. Gauri Pooja by Radha and gopis. Maharaas. Kamsa gets nightmares. Kamsa hangs Vasudeva in a well full of venomous snakes.

Krishna DVD - Episodes 64 to 73: Devaki persuades Akrura to go to Gokula. Nanda and Yashoda get excited as Akrura reveals that Krishna is not their son. Yashoda is delirious. Krishna takes leave of Radha. Radha's will power brings the world to standstill. Krishna takes leave from the villagers of Gokula. Akrura gets the vision of "Virat Swarup" of Shri Krishna while taking a dip in river Yamuna. Krishna enters Mathura, meets Vali. Meets Kubja on the way to Rangshala.

Krishna DVD - Episodes 74 to 83: Krishna breaks Lord Shiva's bow at Kamsa's Rangshala. Kamsa goes through nightmares. Krishna kills Kamsa's elephant Kuwaliyapeed. Krishna appears in various forms in Rangshala. Krishna kills Kamsa and frees his parents and Ugrasena from prison. Coronation of Maharaj Ugrasena. At Shri Krishna's request Nanda leaves for Gokul. Thread ceremony of Krishna and Balrama.

Krishna DVD - Episodes 84 to 93: Shri Krishna and Balrama go to Sandipani Ashram for higher education. Krishna meets Sudama. Education at Sandipani Ashram. The tal [school] of Varah Avtaar. Brahma gives benediction to Hiranyakasipu. Vishnu takes the form of Narsimha Avatar. The tale of Matsya Avatar. The tale of Kacchap Avatar. Mohini Avatar. Vaman Avatar. Ram Avatar.

Krishna DVD - Episodes 94 to 100: Narration of wedding of Rama and Sita. Kaikayee asks for promised boon. Bharat meets Kaikayee. Meeting of Rama and Bharata at Chitrakoot. Abduction of Sita. Hanuman goes to Lanka in search of Sita. Rama - Ravana at war. Coronation of Rama. Radha becomes Shri Krishna. Radha tests gopis' love. Gauri Pooja by Radha and Gopis. Maharaas. Sandipani goes to Gargmuni Ashram in an invisible form. Krishna insists on paying gurudakshna. Krishna and Balrama depart to bring the guru's deceased son. Demon Panchjana is destroyed. Krishna and Balrama bring back guru's deceased son from Sanyamani puri. Summing up by Ramanand Sagar. The first part of the deeds of divine incarnation ends here.
Episode 101 - King's durbar Sudama sings praise of Krishna and gets thrown out by the indignant king.
Episode 102 - In despair & poverty and persuaded by Vasundhara, Sudama decides to go to Dwarka
Episode 103 - On the way to Dwarka - Krishna disguised as Murlidhar follows Sudama - offers lunch.
Episode 104 - Shri Krishna explains to Sudama the meaning & essence of love
Episode 105 - Sudama reaches Dwarka, tattered clothes he wonders whether he is worthy of king krishna's friendship now
Episode 106 - Krishna runs barefoot from the palace, onto the streets calling out to Sudama. Emotional reunion of two friends
Episode 107 - Trilok trembles as Krishna eats a handful rice brought by Sudama
Episode 108 - Rukmini in the form of Lakshmi blesses Vasundhara with eternal youth.
Episode 109 - Sudama departs from Dwarka, Shri Krishna gives Sudama darshan of his Chaturbhuj form
Episode 110 - Receiving boon from Brahma, Tarkasur defeats Indra and occupies his Sinhasan (Throne)
Episode 111 - Shiva burns Kamdev to ashes, but assures Rati that Kamdev will be reborn as Pradyuman, Tarkasur vadh by Kartikeye
Episode 112 - Krishna kills Mayasur son of Shambrasur, Kamdev is reborn as Pradyuman
Episode 113 - Shambrasur sends Mayavi for Pradyuman Haran, Arjun kills Mayavi, Shambrasur sends Pralayasur
Episode 114 - Balram kills Pralayasur, Shambrasur goes to Dwarka for Pradyuman Haran
Episode 115 - Shambrasur throws Pradyuman in water, Lord Vishnu tells Balram about his Sheesnag Avtaar
Episode 116 - Bhanasur & Bhanumati find Pradyuman inside fish and adopts him as their son
Episode 117 - Maharishi Gurudev tells that Pradyuman is not auspicious for Shambrasur. Kumketu tries to kill Pradyuman
Episode 118 - Apsara Padmani uses Rasayan Vidhya on Rishi sons
Episode 119 - Narad reminds Bhanumati that she was Apsara Parmani. She saves Pradyuman using Mayavi & Rasayan Vidhya
Episode 120 - Lord Krishna tells Bhanumati to use Rasayan Vidhya to grow Pradyuman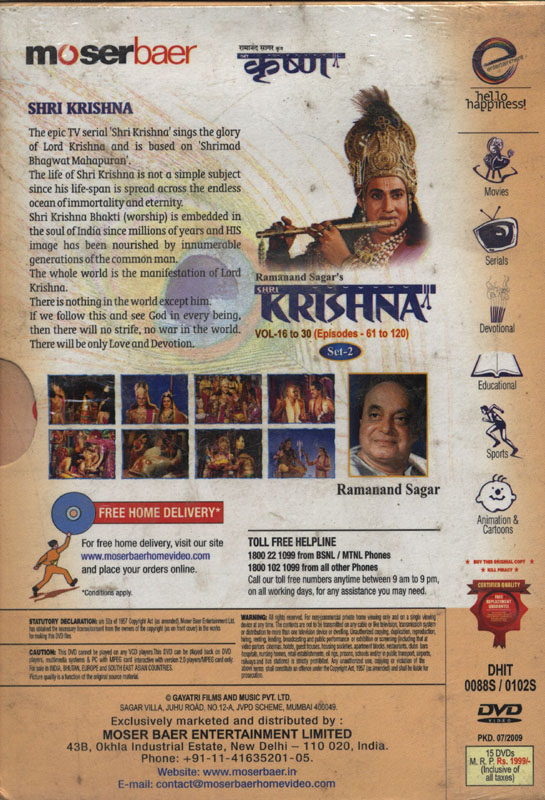 ---
Mini Biography of Dr Ramanand Sagar
Dr. Ramanand Sagar was born as Chandramauli Chopra on December 29, 1917 at Asal Guru Ke, near the city of Lahore, Pakistan (then part of Hindustan).
During the British Rule itself, Ramanand began his film career with a silent movie called "Raiders of the Railroad" (1936). Subsequently, he went on to make, what is now known as a masterpiece, "Aur Insaan Mar Gaya".
Following freedom of India from the British, Ramanand launched his very own production company during the year 1950, calling it the Sagar Art Corporation, and began this by making a movie called "Mehmaan".
Sagar Art Corporation and Ramanand Sagar have to their credit over 50 Hindi movies, including blockbusters such as "Insaniyat", "Ghunghat", "Peghaam", "Aankhen" (1968) "Geet", "Bagavat", "Lalkar", "Kohinoor", "Zindagi", Aarzoo" are just to name a few.
Ramanand created history when he made the television serial "Ramayan", reportedly the longest running serial in India, which featured the life and times of Bhagwan Shri Ram, and his eventual conquest over Lord Ravan and his evil empire in Lanka.
He was presented India's highest Honor "Padamshree", and became known as Padamshree Dr. Ramanand Sagar.
He used to reside in his family home called "Sagar Villa" in Juhu, Bombay. Before that they lived in a flat behind National Hospital in Dadar (West), Bombay.
At the age of 87, Ramanand had not been keeping good health, and unexpectedly passed away on Monday December 11, 2005 in the evening.
His funeral procession consisted of several hundred family, close friends, and Bollywood's actors like Arun Govil, Deepika (who played Ram and Sita respectively in Ramayan), Poonam Dhillon, Bhagyashree, Ravindra Jain, etc.
The funeral pyre was lit and last rites performed by Ramanand's eldest son, Subhash, at the Juhu-Vile Parle Crematorium on the morning of December 12, 2005.
Ramanand is survived by his wife, a daughter, and four sons (Subhash, Moti, Prem, Anand).